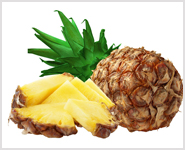 Pineapple Juice Powder
, a yellowish free flowing powder of typical flavour, taste and retain all the nutrition values of Pineapple. It does not contain any chemical preservative.
Selected fresh Pineapple variety are first wash thoroughly followed by visual inspection, peeling, coring, milling / crushing, juicing, standardizing, concentrating and finally spray drying. juice concentration and spray drying are carried out at low temperature to retain flavour, colour and nutrition values. The particles are dried, embeded in food grade matrix and packed. it is prepared by using all natural ingredients.
USAGE OF PINEAPPLE JUICE POWDER
Direct Consumed as a pineapple juice on Recosilution. Also, used as a flavouring agent in ice cream, sweets, confectionery, bakery & biscuit products, baby foods, fruit chutney, snack food, food premixes for sweets, soft drink concentrates, milk based products, etc.